Senator Claire Moore, Senator for Queensland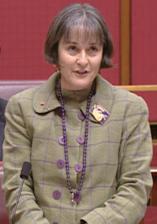 Maiden Speech made at 5.00pm on Tuesday 27 Aug 2002
Senator MOORE (Queensland) (5.00p.m.)-I acknowledge the Ngunnawal people,
I accept that I walk on Aboriginal land and I feel blessed that I live in a country that is home to one of the oldest living cultures on the planet. My work with Aboriginal and Torres Strait Islander peoples has been long and abiding and I cherish the friendships I have made over the years in the political struggle.
A hundred years ago, women were gathering across the country to celebrate. The event was the decision of the new Commonwealth parliament to extend adult suffrage, and the right to stand for office, to women. This right was not extended to all women, however; indigenous people were specifically excluded from the decision and had to wait until 1967 for their chance.
Women in my state, the state of Queensland, achieved this success three years before similar legislation was passed at the state level in 1905. The women of Queensland were not agitating together for suffrage-not everybody was involved-and some commentators actually questioned the strength of the desire for the right to vote. They were not sure that women really wanted to be burdened by the responsibility or were capable or competent to fulfil the task.
Fortunately, however, a number of women and their supporters saw what the politicians of the day could not see, observing the injustice of limited access to the democratic process and deciding to do something about it. These women and their helpers came from a wide range of backgrounds, educational levels, work experience and political involvement. In Queensland, as in other states, significant differences between various groups resulted in a number of organisations being set up. They were different, but they all had one uniting passion: they had the desire to obtain the basic right to vote.
A key activist of this period, and my own personal hero, was a woman from England who came with her family to Brisbane in 1878. Her name was Emma Miller. Emma devoted her life to the labour movement. The Daily Standard-a reputable paper of the day, I trust-said:
Her enthusiasm and devotion for its ideals were inexhaustible and unquenchable-she truly believed the presence of injustices should have no place in any enlightened community.
Emma Miller's joy at the achievement of women's suffrage was but a first step. Even though an election was not imminent, she and others organised meetings and training programs across the state so that women could be involved and informed about the process and so that their votes would really count.
It is humbling now to consider the effort that would have been involved in campaigning at that time. In Queensland, even over a century later, we are still faced with difficulties in travelling vast distances, time constraints and ongoing problems of effective communication access. Emma Miller and her colleagues took all of this on, even before the vagaries of mobile phone reception and reduced airline schedules. In 1903 her passion focused on the first federal election in which women were able to vote. The Labor newspaper, called the Worker, described the hard work and enthusiasm of the Labor women 'on the platform and on the stump. It was not all about bubble and fizz: they did the work'.
The women realised that the opportunities for involvement needed to be seized and that, far from passively waiting for the offer of the gift of political participation, progress could only be achieved by political action. These women of the suffragette campaigns have provided an awesome legacy for all of us, women and men, because we now have the responsibility to maintain a genuine democracy. The enthusiasm and commitment generated by Emma Miller and her sisters must be reflected in our citizenship and our participation in government.
As a strong supporter of the Republican Movement, I was actively involved in the referendum on an Australian republic. Apart from the negative result, the real tragedy for me in this process was the identification of a great ignorance among some sectors of our community about our Constitution, our political processes and our system of government. The associated cynicism and lack of respect for politicians-our motivations, principles and integrity-are confronting. The key question asked by opponents of the change, 'Can you trust a politicians' republic?' does not reflect the sacrifices and values of the people who agitated and lobbied for equality. A recent media statement introduced a story by saying, 'Despite the obvious disadvantages of being a politician ...' Somehow this does not reflect the principles as those of Emma Miller, 'who believed that when conscience was satisfied, unpopularity should not matter-respectability meant acting in humanity's interest'.
Any choice to be involved in a political system must be based on a personal commitment as well as a real sense of support and purpose. My own supports are my family, my party-the Australian Labor Party-my friends and my union. My family come from the Darling Downs, a very beautiful, rich farming area in South-West Queensland. My parents were not involved in party politics; they were both deeply involved in their own community, but the concept of elected office somehow belonged to someone else. There was a respect for the local elected representatives at all levels of government and from various political parties. The local politicians-from my point of view all mature men-seemed to be very visible at local events, and there was a general acceptance that you would be able to see your member of parliament and talk to them about your concerns. There was a relationship, even if you were from different political perspectives. At home, we talked about community issues, but talk without action was not valued. There was a shared understanding that if you were part of something it would involve some work. Because it was a very extended Irish family, my sisters and I were blessed by a wealth of language and expression. My earliest political influence was my cousin, a wonderful trade unionist from the shipyards, who lived with us and whose political activism had forced him to leave Brisbane during the anti-Communist witch-hunts of the 1950s. His gentle wisdom, sense of humour and patience have greatly affected my personal values, and I share this wonderful opportunity with him and my parents-they are not here, but I feel their love and strength with me today.
I thank my sisters, Monica and Rita, for their support and patience. They have shared my progress through the political process. They have provided absolute reinforcement for my choice, often having been dragged into meetings and campaigns. Their joy and unselfish support have enhanced this experience for me. Emma Miller was driven by the purpose of making her world better for the future. For me, the future is represented by my nephews and nieces, and I am going to embarrass them by naming them-Ross, David, Steven, Anna, Kate and Laura. They are in the gallery today, sharing this occasion with me. They will have the chance to question our system and to make informed decisions about their own involvement.
I want to thank my party, the Australian Labor Party. The opportunity to represent it in this community is a great honour and responsibility. This opportunity, directly related to the struggles of Labor women over the preceding generations, provides the chance to publicly identify with the party, its history and its values. I acknowledge the Queensland Labor candidates and campaign teams in the recent election. Their hard work and commitment reflected the energy and dedication of the party. It is sometimes easy to blame or forget defeated candidates. It is a major personal decision to declare to run for office. Our party was represented by strong Queenslanders, with local involvement all across the state.
I was energised and welcomed by ALP members, and I rely on this support to fulfil their expectations for their senator. I join a team of Queensland Labor senators, and I look forward to working with them and with all members of this house. I congratulate the newly elected senators as well as those who have been returned by their states. I particularly acknowledge the encouragement provided by Senator Margaret Reynolds and her challenge to North Queensland women to attend the United Nations Women's Conference in Beijing in 1995. This experience stimulated my realisation that our struggles were international and that our strength relied on understanding and working together, regardless of our backgrounds or our nationalities. I also acknowledge the service given to Queensland by my predecessor, Senator Brenda Gibbs.
In the Australian Labor Party there is an environment where debate and growth are able to thrive. There have been, and will be, periods of policy disagreement and party splits; however, the choice remains for members of our party. We work together to develop policy and accept that there is always a chance to participate in a political movement based on equity, social justice and solidarity. These are current and vibrant concepts, not just words in policy documents or historical artwork.
I recently visited-and in some ways observed the pilgrimage to-Barcaldine, the town in Queensland where the ALP traces the workers movement process to form a political party. At the Workers Heritage Centre strong links between the lives and struggles of working people and the development of the Labor Party as a dynamic political organisation are vividly illustrated. This is not just a nostalgic, historical situation; it is, and must be, a contemporary and ongoing relationship based on common values and respect.
Before the Barcaldine shearer's strike, women in Queensland were joining together to question working conditions and the advantages of joint action. As always, and even here in this place, there were questions about the need for communal action. At a Brisbane meeting in 1890, it was reported that some women workers had been told that it was not in their interests to join a union. The response, as reported in the local media, was:
All I can say is, that if raising your wages, shortening your hours and generally improving your conditions is not in your interests, it is a very strange thing. I should rather think that the people that told you so thought that your improvement was not in their interest and if so, it is selfishness on their part and ought not to be regarded.
I would like to acknowledge my own union, the Community and Public Sector Union. The friendship and support through the privilege of working in elected positions at the workplace and at state and national levels have reinforced the values of shared commitment, respect for individual workers and a belief that we can make change happen. As a member of the Australian Public Service for 14 years, I was fortunate to work in an environment where training, responsibility and teamwork were linked to a genuine commitment to the provision of service to the community. The public sector implements government policy on a daily basis. It acquires valuable knowledge about the impact of policy and the effects of changes on ordinary people and businesses. There is no typical public servant-as, indeed, there is no typical politician. Indeed, it has almost become acceptable to belittle the work of the public sector workers and to repeat the mantra: private equals good, efficient and productive; public equals poor, ineffective and inflexible. This is an injustice to our Australian Public Service.
Since Federation, we have maintained an effective service in Australia. Its integrity and independence are an essential link in our system of government. Public servants must provide relevant, accurate and independent advice to the government of the day. Governments have focused on the importance of merit in the service, insisting that the Australian Public Service has appropriate regulation and that genuine independence is maintained. A well resourced public service, with facilities distributed throughout regional Australia, can effectively implement government policy, provide services and operate information links between government and community.
However, the massive reduction in the public sector, particularly in regional areas, and the lack of personal services affect genuine community confidence. Involvement in the community is much more than just a few trips through regions, some meetings and media opportunities. There must be the development of shared responsibilities, a sense of understanding and identification. We can make these linkages, but it requires personal action and a rebuilding of trust with the political system.
I represent a party that remains absolutely committed to retaining Telstra in majority government ownership-the only party that has not wavered on this issue. Labor wants to fix Telstra; the government wants to sell it. Labor wants to address the pattern of unjustified price increases, deteriorating investment, inadequate services to regional Australia and the slow broadband roll-out. These things have characterised Telstra's performance under this government. This must change.
The Labor Party is also committed to maintaining and expanding a publicly owned and adequately resourced postal service through Australia Post. Australia Post provides, and must continue to provide, an essential communications system with equitable access by regional and rural and remote areas of Australia. There is a need within Australia Post and its network to develop new communications options and essential community information systems. It is therefore vital that the Australia Post networks are maintained throughout the regions. I must mention the ABC, particularly in its 70th birthday year. Designed to inform, entertain and service all sections and satisfy the diverse needs of the public, this organisation inspires strong feelings from many Australians that are mostly positive, but it is capable of attracting great criticism, and I think that is because we all believe that it is our ABC. As a Friend of the ABC, I support the independence, creativity and extensive regional coverage of the ABC. As we move towards another funding round, I look forward to a robust debate about the resourcing of this agency.
I acknowledge the support and solidarity I have experienced from Emily's List. This organisation, formed by strong women with experience in the political system and personified by Joan Kirner, has given many of us practical help when making the decision to be involved, and guidance when taking office, in the system that our sisters organising for suffrage knew was rightfully ours. The lessons of history are real and exceedingly useful. The issues that concerned women and their supporters in the early 20th century when they sought the right to vote included working hours, immigration, equal pay, a real fear of a fall in the birth rate and the impact of change on family values. Many of the suffragettes, including Emma Miller, were deeply involved in the peace movement and the divisive debate about conscription during World War I. As I stand here today, I consider that list of issues and find that they are amazingly current. Emma Miller did not believe that all problems would be solved by women accessing the vote. Her legacy was the need to fight on. I accept this legacy, and I hope that I will be able to play a part in this house to maintain the spirit of the suffragettes. I am a proud unionist. I have been involved in the movement to ensure that all workers have access to safe workplaces, that reasonable hours are enshrined in working conditions and that all workers have access to equitable pay for their labour. The Queensland Industrial Relations Commission has recently ruled on equal pay and test cases are being developed now, over 100 years after the first royal commission into shops, factories and workshops in Brisbane in 1891 exposed discriminatory conditions and unjust wage rates.
The debate about asylum seekers has refocused concerns about migration and the make-up of Australian society. Emma Miller believed that injustice harmed all of society. The treatment of asylum seekers, the effect of mandatory imprisonment of families and children and the fear-mongering about security and invasion reflect on our society and our compassion. These injustices harm us all. The community debate about maternity leave has been affected by questions about our falling birth rate and responsibilities for family. I am proud that the ALP has publicly supported paid maternity leave. This decision has been long awaited. We need to progress practical implementation so that another 100 years does not pass before anything changes here as well.
While researching the Emma Miller connections, I related immediately to the industrial issues and the equity concerns. However, I was not prepared for the sense of foreboding about the threat of war. I have long been involved in the antiwar and antinuclear movements and I am personally appalled by the enormity of any decision about involvement in war. I welcome an informed and reasoned consideration of any position in relation to Iraq and a commitment to the goals of peace and security.
I want to thank the people who are working with me: Virginia, Michelle, David and Tom. Thank you for your patience and your help, and I hope it will continue. I thank the people of Queensland for the honour and responsibility they have given me as their senator. I will work to continue the ongoing legacy of Emma Miller and her sisters, because, as Emma said, 'The world will be what we make it, and a fuller, happier and more abundant world is possible for all of us if we are united in efforts.'
http://www.aph.gov.au